After all their struggles and the sacrifices of their parents, the deaths of these beloved fresh graduates were so painful.
They are gone but will never be forgotten.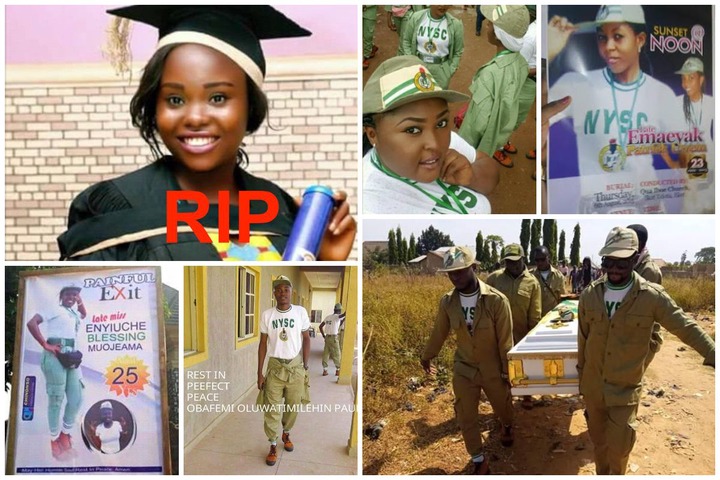 As you read this, please say a prayer for their families and loved ones.
Here is a list of 11 Nigerian corp members who lost their lives during their service year.
BLESSING EYIUCHE MUOJIAMA:
Blessing Eyiuche Muojiama, until her death was a 2017 Batch A Stream 1 corps member serving in Kogi state.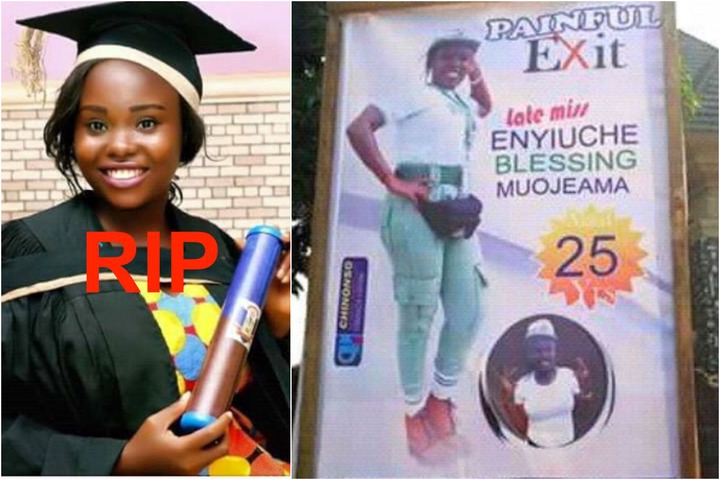 She died on Sunday, December 3rd 2017 in Kogi state.
She graduated from Federal College of Education (Technical), Umunze in affiliation to Nnamdi Azikiwe University, Awka, Anambra State in 2015.
May her gentle soul continue to rest in perfect peace. Amen.
EMAEYAK UWEM:
Emaeyak Uwem died during her youth service in Ekiti state in 2015. She was buried in her uniform.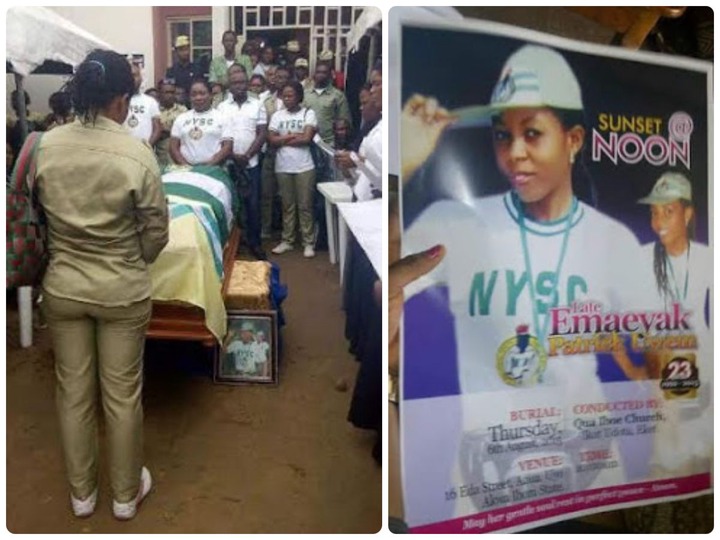 23-year-old Emaeyak Uwem, from Akwa Ibom State, was a graduate of Business Administration of Heritage Polytechnic, Eket, a private tertiary institution.
She had died after she suddenly became ill.
PRAISE FOLORUNSHO:
Praise Folorunsho was serving in Kebbi when she got involved in a tragic car accident and died.
She had only spent less than a month into her youth service when death snatched her away.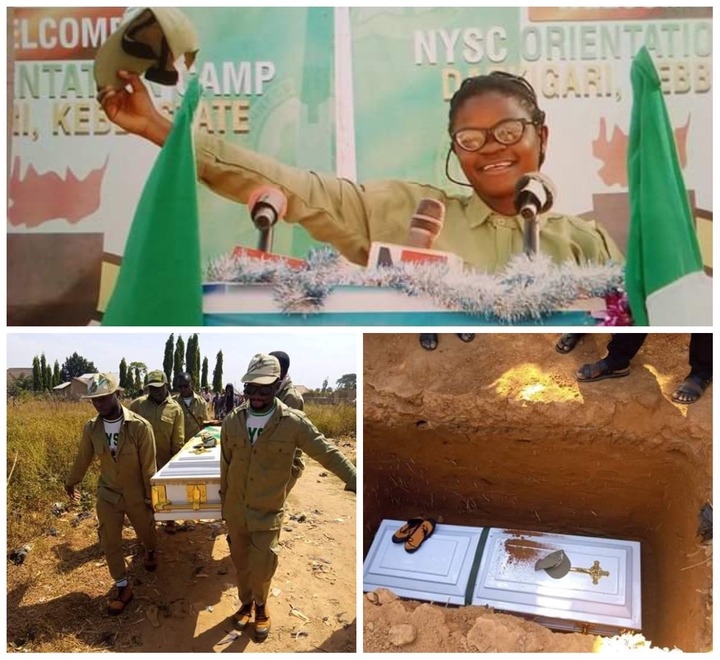 One of her loved ones who shared the pathetic story on social media wrote:
"Today 4Th December Make It A Month You Left For Kebbi State, To Obey The Clarion Call To Serve The Nation.
Little Did I Know That, That Will Be The Last Day, Time And Moment I Will See You.
You Left With Hope, Zeal And Courage To Champion The Gospel Over There.
But You Never Came Back To Us, As You Said. Rather Your Life Journey Ended In Kaduna In A Ghastly Motor Accident.
Your Exit Is Painful To Bear, But God Knows Why.
Today 4Th December, 2019 You Were Laid To Rest Finally To Mother Earth And Your Soul Resting In Peace In The Bosom Of Our Redeemer.
Farewell Twenny
We Shall See, As You Told Me., But When And Where?"
UKEME MONDAY ASUQUO:
Ukeme Monday Asuquo was a First Class Chemical/Petroleum Engineering fresh graduate of the University of Uyo, a native of Ikot Udo Oto in Etinan Local Government Area, Akwa Ibom State.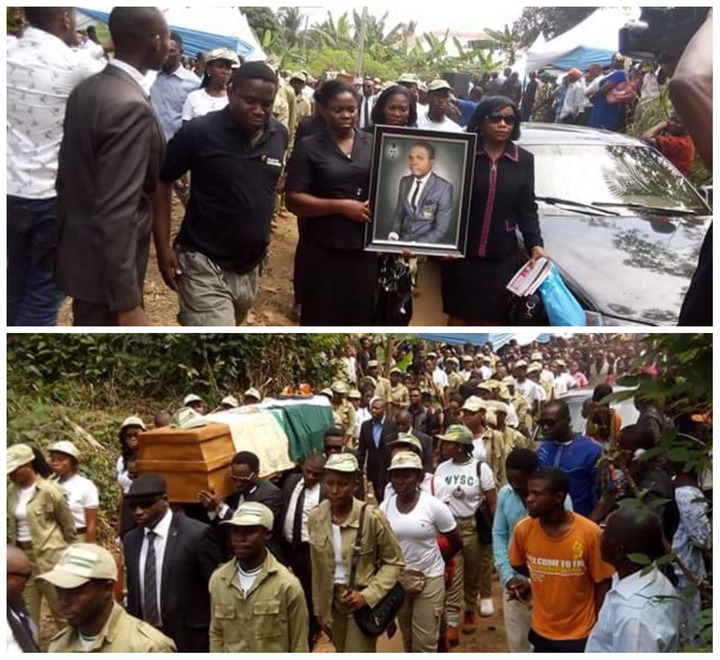 He died while in camp at Zamfara state.
Ukeme left behind, a mother, brothers, sisters and relations to mourn his demise.
ONYI:
Onyi was a National Youth Service Corps (NYSC) member serving in Ebonyi state when she passed away after an illness.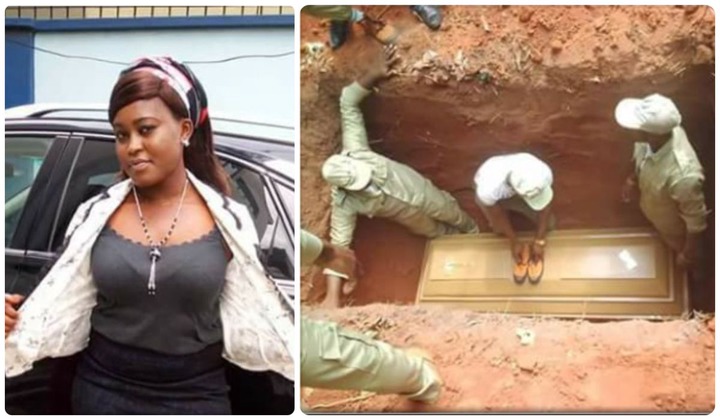 She was laid to eternal rest amid tears from family and friends in January 2019.
FEMALE CORPER SERVING IN ABIA:
This beautiful young graduate, name unknown, was serving In Abia State Platoon 9 when she died after being involved in an accident.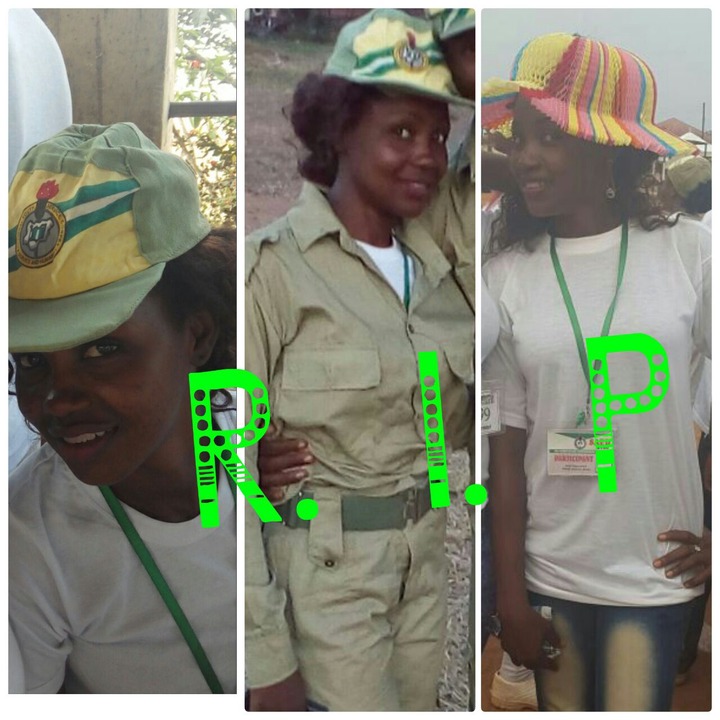 Reports said the accident occurred between the bike (Okada) she boarded which was smashed by a speeding car. She has since been buried.
OBAFEMI OLUWATIMILEHIN PAUL:
Obafemi Oluwatimilehin Paul died after battling aplastic anaemia ( a condition that occurs when your body stops producing enough new blood cells. The condition leaves you fatigued and more prone to infections and uncontrolled bleeding. A rare and serious condition, aplastic anemia can develop at any age.)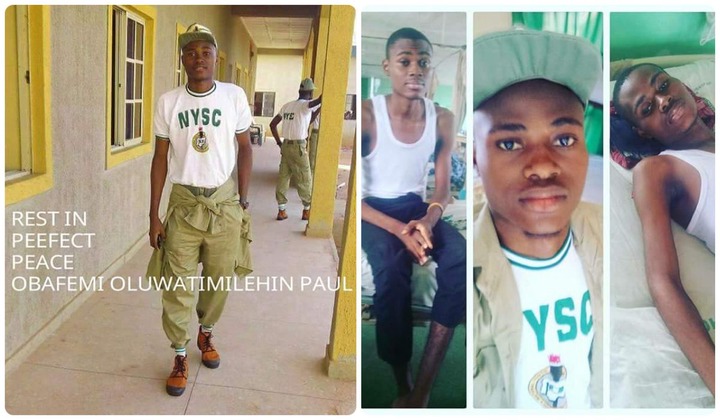 Obafemi was a graduate of the Federal University of Technology, Akure, stream 1 set. He was posted to Kebbi state for NYSC.
CHIKAODILI MBAKWE:
Miss Chikaodili Mbakwe was a corp member serving in Zamfara state when she died at Federal Medical Center, Gusua, Zamfara State after an undisclosed illnes.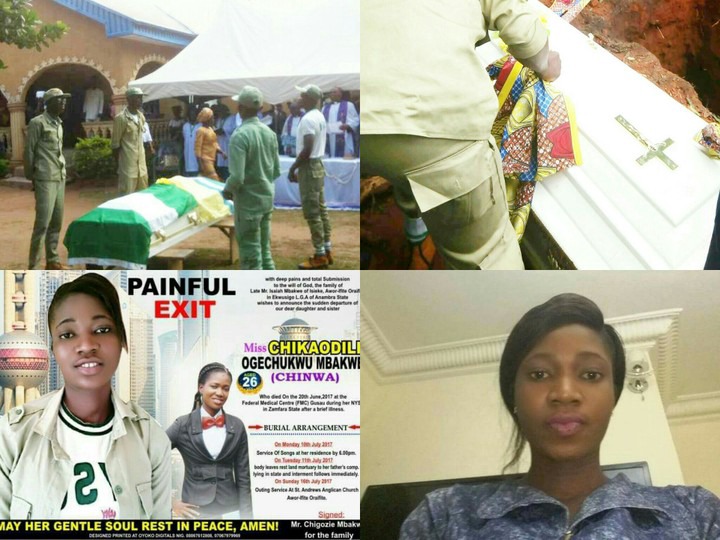 She was buried in her father's compound at Oraifite in Ekwusigo Local Government Area of Anambra State amid tears by family members.
SEGUN OLUMIDE:
Segun Olumide, from Ogun state, was serving on the 2016 Batch 'B' stream at Government Day Secondary School, Wuro Sembe, Jalingo when he died after his laptop exploded and electrocuted him.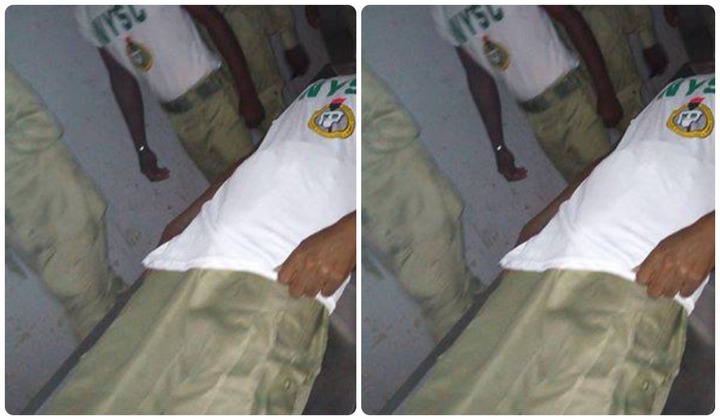 According to reports, Segun had been charging his laptop, which he placed on his laps, before sleeping off.
Electric charges ran through his body as the laptop exploded, causing him severe burns.
His shout had alerted his colleagues who rushed him to the Federal Medical Centre, Jalingo.
But the Electrical Engineering graduate from the Obafemi Awolowo University (OAU) died on his way to the hospital.
MISS CHINDA UCHECHI: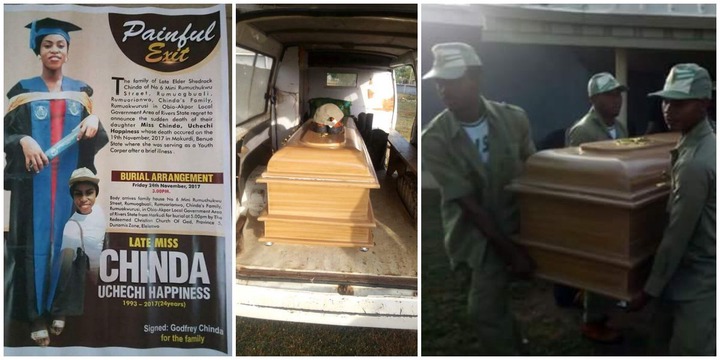 24-year-old corp member Miss Chinda Uchechi lost her life after a brief illness.
Until her death, the deceased from Rivers state was serving in Makurdi.
CHARITY THILZA:
The life of a 25-year-old corps member, Charity Thilza, ended three days to her passing out parade.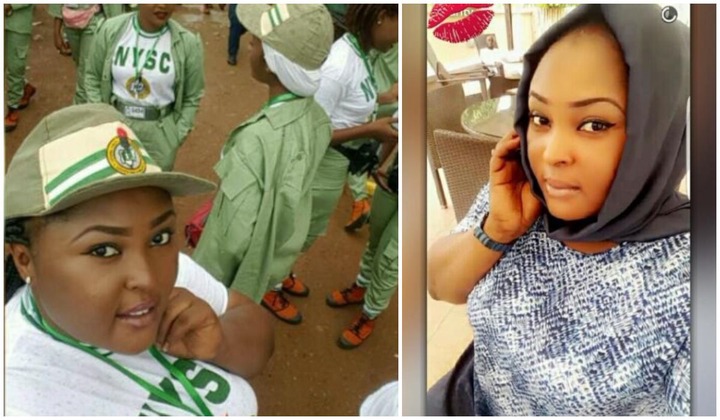 The Borno State indigene was killed by armed robbers along Wuse 2 Road while she was returning home after attending Phyno's show in Abuja.
She studied Linguistics and English at the University of Maiduguri.
May their souls rest in perfect peace.