There is no doubt that the human mind is a powerful tool and even when constrained by physical obstacles, a willing and resilient mind will scale through barriers and conquer.
Such is the case of these Nigerian graduates who, despite their physical challenges, signed up for NYSC and completed it in shining colours.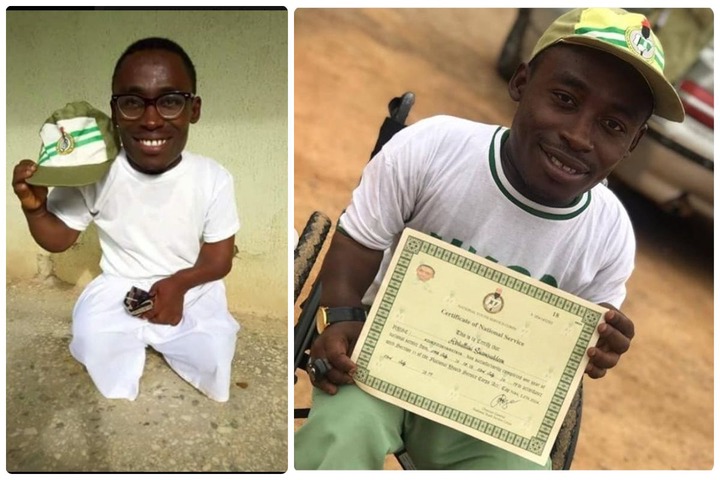 These men and women inspired fellow Nigerians on social media that they can achieve anything only if they set their mind to it.
Let's meet them one by one:
ZAHRADEEN SAIFUL-ISLAM DEENEEYA:
Corp member Zahradeen Saiful-Islam Deeneeya popularly known as Dini, had the rare opportunity of meeting Dolapo Osinbajo, wife of the vice president of Nigeria, Yemi Osinbajo one on one during his service year.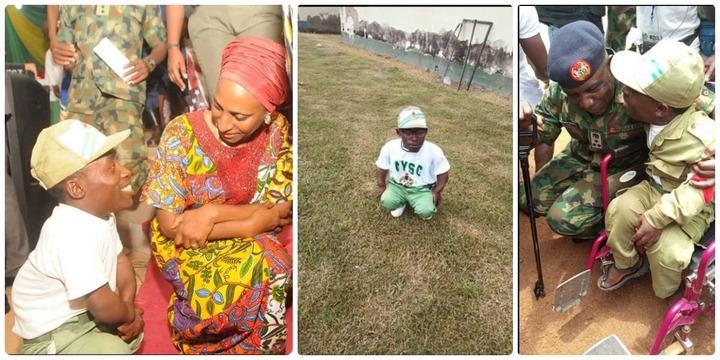 Mrs Dolapo Osinbajo had specially paid Dini a courtesy visit at the Abuja Orientation Camp, and gave him a first-class treatment.
The physically challenged youth corps member graduated from Nuhu Bamalli Polytechnic Zaria, Kaduna state with a Higher National Diploma in Science Laboratory Technology.
At the camp, Dini was well loved and popular because he never allows his condition to weigh him down.
THIS CORP MEMBER'S NAME IS NOT KNOWN:
This young man was so excited when he completed the National Youth Service Corps programme.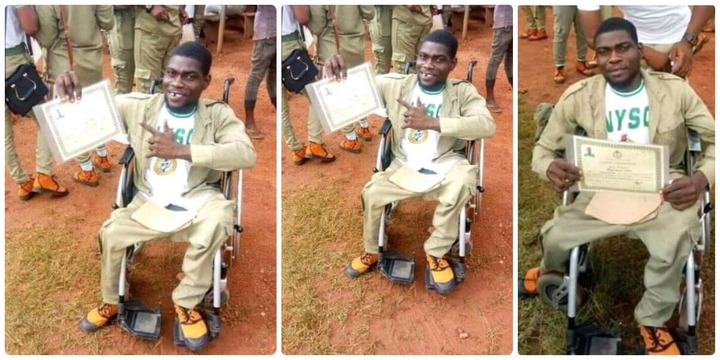 These lovely pictures of him posing with his discharge certificate at the venue of his NYSC Passing Out Parade (POP) quickly went viral and have been used as inspiration for people that may be going through a similar health challenge, one limitation or the other.
He was able to rise above the physical challenges involved in the NYSC programme to finish off in flying colours.
His pictures went viral and efforts were made to unravel his identity and possibly interview him.
CHIMA DIKE:
A physically challenged corp member, Chima Dike, narrated how a fellow corp member turned to a mother figure for her and helped her throughout her stay in their camp in Taraba state.
The helper identified as Ogechi Okoli aided Chima Dike in getting her meals, even literally carrying her to the bathroom amid other things she did for her at the camp.
Chima Dike took to her Instagram page to hail Ogechi whom she had nothing but praises for. Read what she shared below:
"Before embarking on that NYSC trip, I had prayed for a mother figure amongst other things. At the park, I'm still seated in the car and I see some young people gathered around the bus I'm supposed to board and I'm just looking to be sure that my big box has been put in.
The driver stopped at Onitsha to fix the brakes of the bus for the journey ahead. Everyone came down to stretch and buy stuffs. After a while, a girl came and stood at the entrance of the bus and said "I know you!"
Errm.. I didn't know what to say cos she didn't even look familiar in any way. She said it again and explained how she used to see me in school, most times with my 'brother'.
She told me her department and I remembered that we had taken lectures together sometimes, but hey, I still didn't know her. Well, she said her name was Ogechi and we talked for a bit before she went back to her seat. That was the second friend I made in that bus.
They all got down at the gate except me. After the guy who helped me to the hostel left, it dawned on me that I was on my own. I was just sitting on my bed arranging things in my head when I heard someone say, "So, this is where you are. I've been looking for you".
Guess who.. Oge of course.
She helped me get settled and showed me that her bed wasn't so far from mine. She gave me her number and told me to call her or shout her name if I needed anything.
Next morning, Oge carried me on her back to the bathroom instead of using the chair. We completed our registration process and were coincidentally in the same platoon.
One day, she sat me down and told me that she had been asking God why she was posted to Taraba and that the moment she met me, she found her answer.
From going to the market to eat, to getting my meals, Oge played the mother part so well till I met other people.
Ogechukwu, my dictionary is blank right now. There are no words. Thanks for mothering me so well. The Master had need of you and you made yourself available. He's making Himself available to you too."
SHERIFAT ODEMO:
25-year-old Sherifat Odemo got crippled in a road accident but defied the odds to become a graduate of Political Science from Adeleke University, Ede.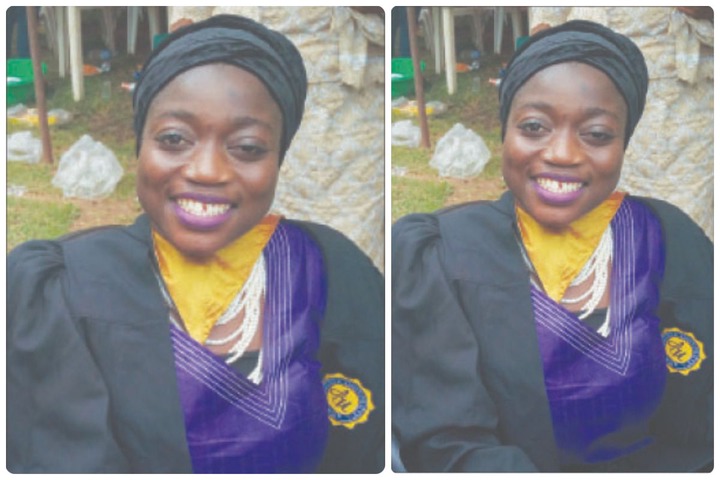 She graduated with a Second Class Upper Division Honours degree.
On how she was able to achieve the feat despite her physical challenges, Sherifat said:
"There were times when I felt like fainting. I saw my classmates jumping about and I felt odd. My parents could hardly afford to sponsor my education. My father is a road transport worker and my mother runs a canteen in Ado-Ekiti, Ekiti State. I am the fourth child in the family and my father is a polygamist.
It was not easy at all before I was awarded scholarship by the Springtime Development Foundation, owned by the Pro-Chancellor of the Adeleke University, Dr. Adedeji Adeleke.
He did not only sponsor my education; he got me a motorised chair to aid my movement on campus.
The scholarship covered only the tuition. I lacked other things. I did not have a corporate dress. Even during the convocation, I just put on what I had.
I lived on campus and there were days when I was sent only N1,500 as upkeep for a whole month. But I was determined not to be broken because I knew it was only for a while."
After her graduation, the Pro-Chancellor of Adeleke University Ede, Osun State, Dr. Adedeji Adeleke, gave Sherifat automatic employment and full scholarship to do her master's degree programme in the university.
CORPER LONG MAN: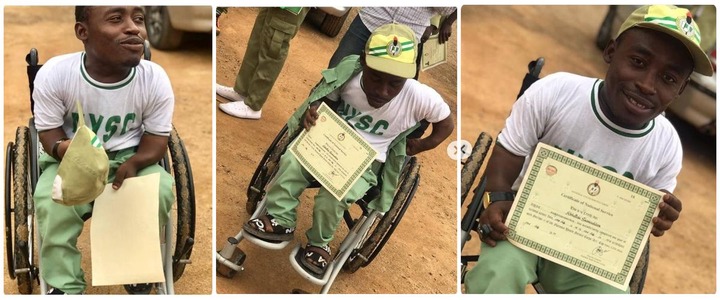 God bless this young man who passed out in 2019 after successfully completing his 1 year NYSC programme.
The corp member has been applauded and congratulated for pursuing his dreams despite his disabilities.